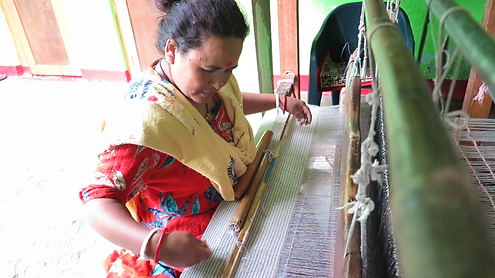 The Bhotia migration settled down the hilltown of Munsiyari a couple of decades ago. After the war of the 1960s between India and China they settled in rural Munsyari. The first time that I visited Darkot village, with two American nationals, we met Mrs. Kanchana Martolia (Chaya Di), at her house, deep inside the Darkot village. She is a weaver woman out of many in the village. Most of the families of Darkot are traditional weavers, they use the Pashmina from the rare rabbit breed of Angora.
Thanks to LUSH association and NGO for its support and publishing this article to give visibility about important aspects and information of this village, women empowerment, sustainability, processes and my experience visiting Mrs. Kanchana Martolia.
Women Empowerment & Sustainability
The village women are earning through the ecosystem. Pashmina shawl costs around 3 to 4 thousand rupees and provides much-needed support for the household. The ladies of this close-knit community are very skilled in crafting amazing products with traditional handlooms using the technique handed over to them from the previous generation.
During the old days they used to knit Shawl scarves and caps for their own need but presently, with the help of a few NGOs and cooperatives, they have expanded their market. Tourists from different parts of our country are also helping them. I remember talking to her; she has clients from the eastern part of India. Most tourists place orders from time to time.
This unique handloom industry has a zero carbon footprint & sustainability. The weavers use Angora rabbits and local goats to procure the raw material. This is very important from a carbon emission perspective. The process is very important from the sustainability point of view as well. The age-old handlooms are designed to make unique items without affecting the local ecosystem at all. The pashmina they produce is the softest & finest in the world. They have a niche market to supply which makes this industry unique.